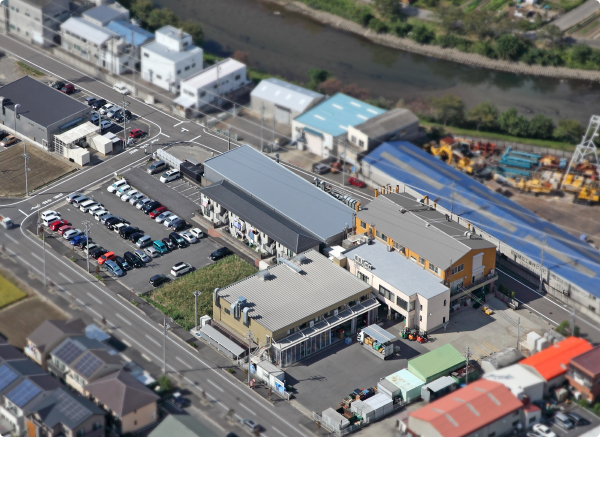 Corporate Mission
We aim to contribute to our customers' products by creating new additional features with innovative coating technology for further quality advancement.
Vision
To be the global leader in the field of functional coatings innovation.
Corporate Profile
Company Name

CLC Co.,Ltd.

Business

Solid Lubricant Coating

Representative

Ken Makino, President

Address

Head Office / Main Factory
1-75 Nishi, Kajigaishiki, Kitanagoya, Aichi 481-0037
Tel: 0568-23-1881 Fax: 0568-25-0616
Inuyama Factory
28-1 Shimomaeda , Tonoji, Inuyama, Aichi 484-0094
Tel: 0568-48-1887 Fax: 0568-48-1886

Established

1901

Capital

20 million yen

No. of Employees

200

Group Company

Akros Co.,Ltd.
Management Philosophy
1

With our constant research and development we are able to recommend the best solution to our customers utilizing our advanced technology.

2

Our company's existence depends on meeting our client's expectations and being trustworthy.

3

We ensure our employees' professional and personal growth for their future development.

4

To continuously contribute to society by being a sound and sustainable company.
Corporate Code of Conduct
To achieve our corporate mission by contributing to our customers' products by creating new additional features with innovative coating technology for further quality advancement, the CLC Group will act with social responsibility and integrity in accordance with the following eight principles.
1. Legal compliance

We comply with all laws and internal regulations to act with integrity as we strive to retain the confidence of society. We also maintain healthy and normal relations with the government and the administrative authorities and have no dealings whatsoever with antisocial forces or groups that threaten our country and security.

2. Promoting communication with society

We disclose required corporate information in a prompt and appropriate manner. We listen to and respect the views of our customers, business partners and others in society in our business activities.

3. Coexisting with communities

We respect local cultures and customs and proactively carry out community contribution activities.

4. Contributing to environmental conservation

We carry out environmentally friendly business activities in order to help achieve both social prosperity and environmental conservation.

5. Earning customer trust (Quality Policy)

We make a personal commitment to always understand our customers' needs and always offer quality products and services that meet those needs.

6. Establishing relations of trust with business partners

We strive to build and maintain relationships based on mutual trust with our business partners by respecting agreements, fulfilling our obligations, and communicating clearly.

7. Creating an environment for employees to achieve self-fulfillment

We respect our employees' individuality and diversity and strive to create a workplace that makes them all work comfortably and demonstrate their ability and energy to the full.

8. Understanding and support of investors and fund providers

We strive to earn the confidence of society by continually carrying out honest and sound corporate management.
Access Map
1-75 Nishi, Kajigaishiki, Kitanagoya, Aichi 481-0037

Tel: 0568-23-1881 Fax: 0568-25-0616
28-1 Shimomaeda , Tonoji, Inuyama, Aichi 484-0094

Tel: 0568-48-1887 Fax: 0568-48-1886
Subsidiary Company
Company Name

Akros Co.,Ltd.

Business

Manufacturing and product distribution of lubricating oil, lubricants, and functional coatings

Representative

Ken Makino, President

Address

Head Office
31 Karasukaido, Nishinoshima, Komaki, Aichi
Tel: 0568-42-1011 Fax: 0568-43-1616
http://www.akros.co.jp/

Established

January, 1993

Capital

10 million yen